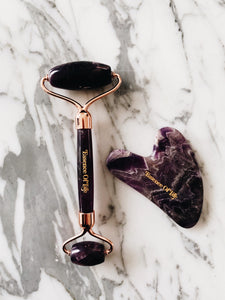 Regular price
The Perfect Duo: Purple Amethyst Gua Sha Tool and Roller
---
The Ultimate Lifting and De-Puffing Duo:  100% Purple Amethyst Gua Sha and facial roller.  
Amethyst is loaded with negative ions, giving it a great deal of anti-inflammatory properties. It is a wonderful choice for those seeking a more balanced complexion. If you have redness, breakouts, or otherwise inflamed skin, amethyst is for you!
Used in conjunction to:
Decrease puffiness in the skin
Increase lymphatic drainage
Improve blood circulation
Both tools can be used in combination with a beauty oil to help hydrate the skin.
Both are made from 100% authentic Jade 
What's in This Set:
1 x Gua Sha (Heart Shape)
1 x Facial Roller

About the components in the set:
This Gua Sha Massager is a great handheld massager for jawlines. It gives your skin a deep tissue massage with the scraping motion and regenerates new skin tissue.

This Crystal facial roller is double sided; one smaller side for the small areas of the face like the eyes, and a larger stone for bigger areas like the cheeks, neck, and forehead. Using this facial roller daily can reduce the appearance of pores, tighten the skin, and gives it a beautiful glow.