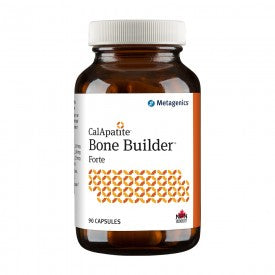 Regular price
Metagenics Cal Apatite™ Bone Builder™ Forte 90 Capsules
---
CAL APATITE™ BONE BUILDER™ FORTE
(FORMERLY CAL APATITE FORTE CAPSULES)
Non-GMO
Gluten-Free
Bone Health
Recommended Use: 
Helps in the development and maintenance of bones and teeth. Adequate calcium and vitamin D, as part of a healthy diet, may help prevent bone loss/osteoporosis.
Medicinal Ingredients:
 
Each capsule contains:
Calcium (MCHC

‰ÛÊ

)
 
214 mg
Phosphorus (MCHC

‰ÛÊ

)
 
84 mg
Vitamin D (cholecalciferol)
 
25 mcg
Non-Medicinal Ingredients: Hypromellose, cellulose, stearic acid (veg),and magnesium stearate (veg).