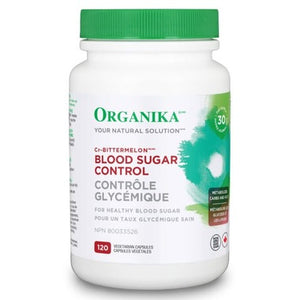 Regular price
Organika Cr-BitterMelon Blood Sugar Control
---
Organika Blood Sugar Control Cr-Bitter Melon provides a rich source of Chromium in a chelate form, for maximum absorption.
Chromium has traditionally been used to improve the metabolism of glucose, for balanced blood sugar levels. As a result, balanced blood sugar and glucose levels lead to less fatigue and stable energy levels throughout the day. Additionally, Chromium has been a trace mineral known to improve the metabolism of carbohydrates and fats from dietary sources. Accordingly, Chromium supplementation can be a useful supplement for diabetics who are looking for helping hand in stabilizing their blood glucose levels.
Features:
Provides support for healthy glucose metabolism, to regulate blood sugar
Helps the body to metabolize carbohydrates and fats for better use/storage in the body
Directions: Take 2 capsules twice per day. 
Duration of Use: Consult a health care practitioner for use beyond 4 weeks. 
Medicinal Ingredients- Each vegetarian Capsule contains:  Bitter Melon Fruit Powder (Momordica charantia) 500 mg,  Chromium (Chromium HVP* Chelate) 50 mcg,           *Hydrolyzed Vegetable Protein.
Non-Medicinal Ingredients: Brown Rice Flour, Magnesium Stearate (Non-GMO Vegetable Source), Hypromellose / Pullulan (Vegetarian Capsule).

Cautions: Consult a health care practitioner if you have diabetes or liver disease; or if you are taking any drugs, herbs, and supplements that affect blood sugar. Do not use if you have hypoglycemia; or if you are pregnant or breastfeeding. Discontinue use and consult a health care practitioner if you experience symptoms of hypoglycemia including feeling of anxiety, dizziness, tremor, sweating., nausea or headache.