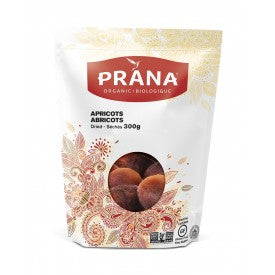 Regular price
Prana Apricots Organic 300g
---
ORGANIC PITTED APRICOTS
ORGANIC
KOSHER
GMO FREE
GLUTEN FREE
VEGAN
Sweet and deliciously juicy, these apricots are indispensable to Mediterranean cooking. These beauties are the perfect choice for a snack or as a compliment to your chutneys, tagines, cakes, granolas and pastries. Not only is their aroma and flavour reminiscent of summer but they are very high in beta-carotene and fibre which can help ward off cancers and maintain an optimal digestive track.
The apricot is native to a northern China and was domesticated 4,000 years ago by the people of this region. The oil extracted from its seed was formerly used for medicinal purposes. The tree arrived 2,000 years ago in Europe and then it spread to the rest of the Mediterranean.
Can be preserved in a cool, dry cupboard protected from light and humidity for up to 12 months.
Apricots were named in latin praecoquum or "premature" since this fruit tends to ripen quite rapidly.