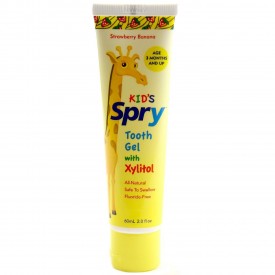 Regular price
Spry Kid's Tooth Gel Strawberry Banana 60mL
---
KID'S SPRY TOOTH GEL
STRAWBERRY BANANA
Great tasting & good for teeth
Safe to swallow
Fluoride free
All - natural ingredients
Offers the clinically proven benefits of xylitol
Provides tooth - strengthening calcium
Promotes oral and upper respiratory health
Protects and strengthens developing teeth
Dentist/ Dental Hygienist recommended
For Ages 3 months and up
The Spry Dental Defense System® is a family of high-quality oral care products manufactured using xylitol, a natural sweetener. Spry dental includes Xylitol Gum, Xylitol Mints, Xylitol Candy, Xylitol Toothpaste, and much more.
Clinical studies have repeatedly shown dental benefits when regularly consuming products sweetened with xylitol. According to Xylitol.org chewing xylitol products 5 times a day will produce the greatest benefit to dental health. chew spry gum after each meal and brush your teeth with Spry toothpaste and your five xylitol uses have been reached right there.
Ingredients
Purified Water, Xylitol, Calcium glycerophosphate, Cellulose Gum (thickening agent), Natural Strawberry & Banana flavoring, Grapefruit Seed Extract as a preservative.