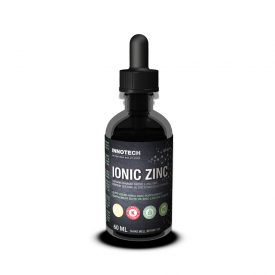 Regular price
Innotech Ionic Zinc 60mL
---
Zinc has been used since ancient Egyptian times to enhance wound healing and is necessary for the functioning of more than 300 different enzymes that play a vital role in an enormous number of biological processes. It helps in the development and maintenance of bones, cartilage, teeth and gums; connective tissue formation; wound healing. Helps to maintain immune function. Zinc is a co-factor for the antioxidant enzyme superoxide dismutase (SOD) and is in a number of enzymatic reactions involved in carbohydrate and protein metabolism.
Its immune-enhancing activities include regulation of T lymphocytes, CD4, natural killer cells, and interleukin II. In addition, zinc has been claimed to possess antiviral activity. It has been shown to play a role in wound healing, especially following burns or surgical incisions. Zinc is necessary for the maturation of sperm and normal fetal development. It is involved in sensory perception (taste, smell, and vision) and controls the release of stored vitamin A from the liver. Within the endocrine system, zinc has been shown to regulate insulin activity and promote the conversion of thyroid hormones, thyroxine to triiodothyronine.
Based on available scientific evidence*, zinc may be effective in:
• Treatment of (childhood) malnutrition
• Pregnancy Health
• Acne vulgaris
• Peptic ulcers
• Leg ulcer
• Infertility
• Wilson's disease
• Herpes simplex
• Hair loss
• Zinc has also gained popularity for its use in the prevention of the common cold
WHY IONIC?
The human body is a machine based on a need for energy of many kinds. Getting needed energy is crucial for the myriad of systems contained within us all. Zinc intake is crucial for life and optimum health. Although too much zinc intake can be troublesome to a lesser or greater degree. What the human body craves when it comes to zinc, is zinc energy. Many people make their conclusion using the RDA system when making assessments of proper health concerning zinc status. This thought process is contrary to many scientifically based research projects. The appropriate use of zinc ions is what is discussed and researched by those doing technical research.
Ionic "Absorb-Ability" vs RDA
Due to the inequities of using the RDA as the standard for food or dietary supplementation, there is a giant gap in the understanding of how certain substances physically work within the body. How can these substances increase or decrease one's health? To address this concern, we developed 3PS-IR Technology™ – Synergism of Ingredients. 3PS-IR technology™ was designed to produce Innotech Nutrition's Liquid Ionic Zinc™. We have developed and perfected our formulation with a symbiotic process in mind. Liquid Ionic Zinc™ allows for all ingredients to be used by the body for an effective result, minus side effects that may occur with other zinc supplements. In other words, 100% bioavailability allows for smaller, more effective, doses of Zinc!
Due to the flexible nature of administration of our Zinc Ions, one drop can be administered at a time. This flexibility allows for as little as 0.20mg per administration of our liquid Zinc complex. This small amount can be used in the most sensitive cases of administration of Zinc Supplementation ie; Pregnancy or Pediatric Concerns.
Helps in the development and maintenance of bones, cartilage, teeth and gums

Helps in connective tissue formation; wound healing

Helps to maintain immune function

Flavourless
NPN 80057197
Medicinal Ingredients: Zinc 6 mg (Zinc Gluconate, Zinc Ascorbate), Vitamin C 71 mg (Ascorbic Acid).
Nutrition Facts
Serving Size: 1.8 ml
Servings per Container: 33
Amount Per Serving
Zinc (zinc gluconate, zinc ascorbate) 
6 mg
Vitamin C (ascorbic acid)
71 mg

* Percent daily values are based on a 2000 calorie diet
  † Daily Value not established
Note: Serving Sizes are rounded to the nearest whole serving
Additional Ingredients: Distilled Water, Calcium Carbonate, Potassium Sorbate, Stevia.
Allergy Information: n/a
Warning: Zinc supplementation can cause copper deficiency. Do not take iron supplements at the same time as zinc. Iron interferes with zinc absorption. Shake well before each use. Iron interferes with zinc absorption.