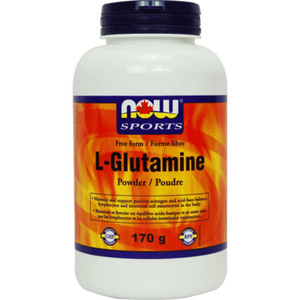 Regular price
NOW Sports L-Glutamine Free Form Powder
---
NOW Sports L-Glutamine Free Form Powder is a pure, free-form, nonessential amino acid and is the highest grade available. It allows for controlled dosing and can be added to beverages and health shakes.
Glutamine has recently been the focus of much scientific interest. A growing body of evidence suggests that during certain stressful times, the body may require more Glutamine than it can produce. Under these circumstances Glutamine may be considered a "conditionally essential" amino acid. Glutamine is involved in maintaining a positive nitrogen balance (an anabolic state) and also aids rapidly growing cells (immune system lymphocytes and intestinal cell enterocytes). In addition, Glutamine is a regulator of acid-base balance and a nitrogen transporter.
Features:
Helps to assist in muscle repair after exercise
Free Form
Vegetarian / Vegan
Directions:
Adult Dosage: Take 1 teaspoon 2-3 times daily.
Ingredients:
Per 1 teaspoon:
L-Glutamine 3000 mg
Non-Medicinal Ingredients:
 None.
Caution:
 Consult a health care practitoner prior to use if you are pregnant or breastfeeding or if you are following a low protein diet.