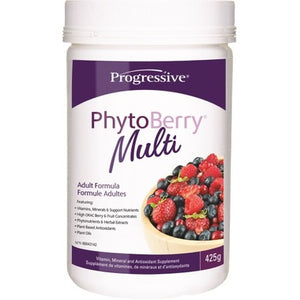 Regular price
Progressive PhytoBerry Multivitamin Adult Formula
---
PhytoBerry Multi features a strategic blend of over 70 foundational nutrients, including the entire spectrum of vitamins, minerals and support nutrients in Progressive MultiVitamins, along with the complete family of high ORAC berry and fruit concentrates, phytonutrients, antioxidants, herbal extracts, EFAs and essential oils in PhytoBerry.
For best results, combine with VegeGreens Multi for all your fruits, all your vegetables and all your vitamins & minerals!
Now there is no excuse for not taking your vitamins or eating all your fruits and veggies!
Benefits:
Get all your fruit + half your vitamins & minerals
Protects your body from head to toe
Helps to slow the aging process
Supports immune and heart health
Boosts energy and mental focus
All in 1 convenient scoop!
Features:
6-8 servings of fresh fruit
Over 70 plant-based ingredients
Over 30 vitamins & minerals
Berry & fruit concentrates
EFAs & essential oils
Botanical antioxidants
5,000 ORAC units per serving

Other Non-Medicinal Ingredients:
 Organic Evaporated Cane Juice, Grape Skin Extract, Beet Root, Natural Berry Flavour, Stevia Leaf Extract, Citric Acid.
Contains ingredients derived from soy (vitamin E and lecithin).
The Program:
 Consume 1 scoop of PhytoBerry Multi as directed first thing in the morning. Consume 1 scoop of VegeGreens Multi as directed in the late afternoon or early evening.