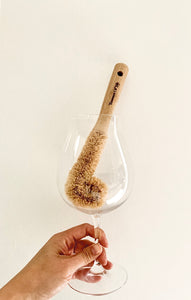 Regular price
Biodegradable Plant-based Bottle Brush
---
Great plant-based multipurpose bottle brush for cleaning your glasses, reusable bags water bottle and more.  Made sustainable with coconut husk bristles and eco-friendly bamboo handle.   
Effectively removes leftover residues 
Contains no plastic or toxic chemicals
Designed to get into hard to reach places 
Naturally antibacterial 
Biodegradable 
Sustainable
These brushes last a long time—at the end of life cycle, the handle and coconut brush is compostable, and steel wire is recyclable.   
*** First pull the brush apart with pliers/side cutters and remove the steel wire which goes in your recycling bin.