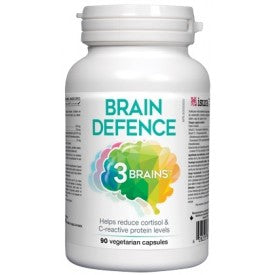 Regular price
3 Brains Brain Defence 90 Veggie Caps
---
3 BRAINS BRAIN DEFENCE
3 Brains Brain Defence is a blend of five herbal extracts, selected for their effectiveness in supporting cognitive, cardiovascular, and intestinal health while reducing the effects of mental and physical stress. The anti-inflammatory properties of these five ingredients; Ashwagandha, Bacopa, Curcuminoids-Phosphatidylcholine, Boswellia, and Chamomile help relieve discomfort from minor digestive disturbances, which are often related to inflammation in the gastrointestinal tract. Brain Defence is formulated to support a calm mental attentiveness by counteracting the negative symptoms of stress and reducing both cortisol and C-reactive protein levels, the biomarkers of physical stress.
Benefits:
Helps reduce the biomarkers of stress, cortisol, and C-reactive protein levels
Reduces symptoms of stress including fatigue, sleeplessness, irritability, and inability to concentrate
Helps relieve inflammatory conditions of the gastrointestinal tract
Acts as a calmative and helps ease mild digestive disturbances
Each 

vegetarian capsule

 contains:

Bacopa extract 20:1 (aerial parts) (50% bacosides A and B)

 
 

100 mg

Sensoril ashwagandha (root and leaf extract) (8% withanolides, 32% withania oligosaccharides, <2% withaferin A)

 
 

83.33 mg

Curcuminoids-phosphatidylcholine complex (rhizome & sunflower seed) (33% curcuminoids) (provided by 167 mg Meriva curcumin from turmeric root)

 
 

100 mg

Boswellia extract (gum oleoresin) (40% boswellic acids)

 
 

200 mg

Chamomile extract 4:1 (flower)

 
 

133.33 mg

Non-medicinal Ingredients: Vegetarian capsule (carbohydrate gum [cellulose], purified water), microcrystalline cellulose, vegetable grade magnesium stearate (lubricant), silica.

 
 

Contains no artificial colours, preservatives, or sweeteners; no dairy, starch, sugar, wheat, gluten, yeast, soy, egg, fish, shellfish, animal products, salt, tree nuts, or GMOs.