Regular price
A.Vogel Absolut Arnica Gel
---
Osteoarthritis symptoms? A.Vogel Arnica Gel relieves osteoarthritis pain in the knee and hand. Efficacy without the side effects of synthetic painkillers.
Make Arnica a part of your first aid kit! This summer, play it safe! When cycling, inline skating or enjoying other sports on wheels, make sure the whole family wears a helmet and protective gear. Always follow the rules of the road, make sure to wear bright and reflective clothing, and assume motorists don't see you.
And before doing any kind of exercise, to avoid damaging your muscles, always make sure to warm up and stretch: the next day, you'll be glad you did! We all know that self-propelled sports carry their own share of risk and injuries. Kids get bumps and bruises, and older people who are still kids at heart can trip and get hurt too.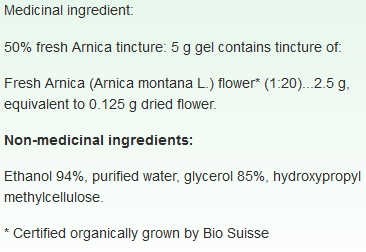 Dosage:
Adults, adolescents and children: (2 years and older): Apply sparingly to affected area 3 - 4 times daily or use as a compress. Avoid rubbing. Children application should be supervised by an adult.
Caution:
For external use only. Do not apply on open wounds and broken skin. Avoid contact with eyes and mucous membranes. Do not bandage. Do not apply with external heat, such as an electric heating pad, as this may result in excessive skin irritation or skin burn. Do not use if allergic to Asteraceae/ Compositae (daisy) family and in case of known allergy to any of the ingredients in the product. Consult a healthcare practitioner if symptoms persist or worsen. Do not use if safety seal is broken. Keep out of reach of children.