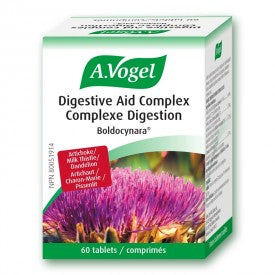 Regular price
A.Vogel Digestive Aid Complex Boldocynara 60 Tablets
---
DIGESTIVE AID COMPLEX

BOLDOCYNARA

Lactose and gluten free
Artichoke, Milk Thistle, Boldo & Dandelion Complex
Used in Herbal Medicine to help relieve minor digestive disturbances, such as dyspepsia.

Helps to relieve digestive disturbances such as: heartburn, acid reflux, excess burping, bloating, nausea, feeling of abnormal or slow digestion or early satiety.

Medicinal Ingredients

Artichoke leaf* (Cynara scolymus)(1.674:1)....4.6 mg
equivalent to 7.7 mg of dry leaf;

Boldo leaf (Peumus boldus)(5:1)...0.7 mg
equivalent to 3.5 mg of dry leaf;

Milk Thistle fruit (Silybum marianum)(25:1)...3.2 mg
equivalent to 80 mg of dry fruit;

Dandelion root & leaf*
(Taraxacum officinale)(2.917:1)...1.2 mg
equivalent to 3.5 mg of dry root and leaf

* Certified organically-grown by: CH-BIO-006 / Fresh

Non-medicinal Ingredients

Microcrystalline cellulose, hydrogenated cottonseed oil.