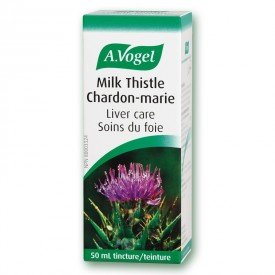 Regular price
A.Vogel Milk Thistle 50mL
---
MILK THISTLE

Traditionally used to treat: disorders of the liver, spleen and gall bladder hepatic, splenic or renal congestion gallstones hepatic pain and swelling.  
Sugar Free
Gluten Free
Lactose Free

Milk Thistle is used to treat liver, spleen and gall bladder disorders. This liver care remedy promotes liver and gall bladder health and relieves liver pain symptoms.

Medicinal Ingredient

Milk Thistle (Silybum marianum) fruit (1:2) …923 mg, equivalent to 461 mg fruit. Daily dose (30 drops) contains 839 mg of Milk Thistle tincture.

Non-medicinal Ingredient

1 mL of tincture contains 0.61 mL alcohol (ethanol).1 mL = 33 drops. Dropper included.