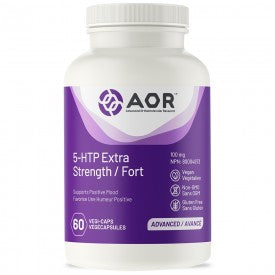 Regular price
AOR 5-HTP Extra Strength 60 Veggie Caps
---
5-HTP EXTRA STRENGTH
MOOD AND SEROTONIN SUPPORT
Corn Free
Gluten Free
Non-GMO
Soy Free
Vegan
Provides 5-HTP, an absorbable precursor to serotonin
Improves sleep patterns & helps alleviate migraines
Flexible dosing options for varying needs
5-HTP stands for L-5-hydroxytryptophan, which comes from the amino acid tryptophan found in many proteins and the seeds of an African plant known as Griffonia simplicifolia. 5-HTP is primarily used to support mood through its ability to increase serotonin – the neurotransmitter associated with happiness – and the neurohormone melatonin. It can also be used for several conditions where serotonin is believed to play an important role.
5-HTP has been compared to various antidepressants and has been found to be as effective and faster-acting with fewer side effects. Since serotonin and melatonin are involved in regulating the sleep/wake cycle, 5-HTP can enhance sleep quality. Additionally, research supports a role for 5-HTP in reducing headaches and the symptoms of fibromyalgia. Several clinical trials with 5-HTP have confirmed significant improvements in symptoms associated with fibromyalgia including pain, morning stiffness, nervousness, and fatigue.
Ultimately, those who suffer with mood imbalances such as low mood and anxiety, or from migraines, fibromyalgia or sleep disorders may benefit from taking 5-HTP.
AOR Advantage
AOR's 5-HTP is derived from the seed of the small shrub tree Griffonia simplicifolia and then processed in France. This source of 5-HTP is devoid of any "peak x" contaminants. This extra strength formula is twice the dose of AOR's regular 5-HTP, to meet varying individual needs and help decrease capsule burden.
5-HTP is 5-hydroxytryptophan, a metabolite of tryptophan and an essential precursor of serotonin and melatonin. Research supports a role for 5-HTP in supporting mood balance and relieving the symptoms of fibromyalgia. AOR's 5-HTP is naturally-sourced from the seeds of the griffonia shrub.
Guarantee
AOR™ guarantees that all ingredients have been declared on the label. Contains no wheat, gluten, corn, nuts, peanuts, sesame seeds, sulphites, mustard, soy, dairy, eggs, fish, shellfish or any animal byproduct.
Main Applications
Mood
Fibromyalgia
Insomnia
Migraine headache
Weight management
Disclaimer
The information and product descriptions appearing on this website are for information purposes only, and are not intended to provide or replace medical advice to individuals from a qualified health care professional. Consult with your physician if you have any health concerns, and before initiating any new diet, exercise, supplement, or other lifestyle changes.