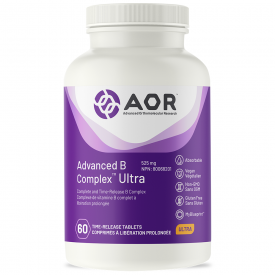 Regular price
AOR Advanced B Complex Ultra 60 Time-Release Tablets
---
ADVANCED B COMPLEX® ULTRA
AWARD-WINNING FORMULA PLUS BRAIN SUPPORT, IN A TIME-RELEASE TABLET
Absorbable
Corn Free
Gluten Free
Non-GMO
Soy Free
Vegan Society Certified
All the benefits of our Advanced B Complex® original, plus brain support
Time-release formula allows for improved absorption
Optimal doses of the most effective and biologically active forms of B vitamins
Antioxidant PQQ for support of cardiovascular, cognitive health and energy
Three types of B12
Time-release minimizes niacin "flush"
Advanced B Complex® Ultra is based on Advanced B Complex, our award-winning favourite, with additional benefits for heart health, brain health, and energy. Advanced B Complex® Ultra utilizes time-release technology to enhance absorption and provides the full spectrum of B vitamins, some of them in multiple forms, for superior efficacy in the body.
Advanced B Complex® Ultra is formulated with niacin, the most active form of vitamin B3, and the most effective for heart health and cholesterol. It contains a safe dose of slow-release niacin to minimize the sensation of "flushing". Advanced B Complex® Ultra is unique in that it also contains Pyrroloquinoline quinone (PQQ), a B-vitamin-like nutrient that helps support brain health.
Advanced B Complex® Ultra is perfect for anyone looking to get beyond the standard benefits of B vitamins.
Advanced B Complex® Ultra provides the most active forms of B vitamins in clinically-supported doses and in ratios that the body can utilize, in a time-release formula, for optimal results. With the addition of antioxidant PQQ. These nutrients help metabolize carbohydrates, proteins and fats for energy and support tissue and red blood cell formation.
Guarantees
AOR™ guarantees that all ingredients have been declared on the label. Contains no wheat, gluten, corn, nuts, peanuts, sesame seeds, sulphites, mustard, soy, dairy, eggs, fish, shellfish or any animal byproduct.
Main Applications
Energy
Heart health
Brain health
Disclaimer
The information and product descriptions appearing on this website are for information purposes only, and are not intended to provide or replace medical advice to individuals from a qualified health care professional. Consult with your physician if you have any health concerns, and before initiating any new diet, exercise, supplement, or other lifestyle changes.