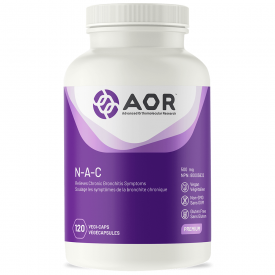 N-A-C
RELIEVES CHRONIC BRONCHITIS SYMPTOMS
Gluten Free
Non-GMO
Vegan
Promotes respiratory health, helps clear excess mucus
Protects the liver by boosting glutathione levels
Supports detoxification
N-Acetyl-L-Cysteine, or N-A-C, is an acetylated form of the amino acid cysteine. Cysteine is the most important precursor to glutathione (GSH), the most critical antioxidant produced in the body. Glutathione helps chelate toxins and heavy metals from the body. N-A-C is approved as a drug in some European jurisdictions for use in preventing liver damage from acetaminophen overdose. It has been used for over 30 years for respiratory health, providing some relief to those suffering from chronic respiratory conditions such as the annoying post-nasal drip, sinusitis, chronic bronchitis, the congenital disease cystic fibrosis, and even life-threatening conditions such as COPD.  N-A-C also promotes cardiovascular health due to its unique ability to inhibit levels of a specific lipoprotein called Lp(a), a marker of heart disease.
Acetylated cysteine is better absorbed than regular cysteine. AOR's N-A-C is an excellent choice for those looking for a single supplement to promote overall health including cellular protection and cardiovascular health. People suffering from chronic respiratory conditions may also benefit from regular use of N-A-C.
AOR Advantage
As the precursor for the important antioxidant glutathione, AOR's NAC provides a wide range of health benefits in an effective dosage.
Guarantees
AOR™ guarantees that all ingredients have been declared on the label. Contains no wheat, gluten, nuts, peanuts, sesame seeds, sulphites, mustard, soy, dairy, eggs, fish or shellfish.
Cautions
Consult a health care practitioner prior to use if you suffer from cystinuria or cystine kidney stones, if you are pregnant or breastfeeding, for use beyond six months or if symptoms persist or worsen. Do not use with charcoal, if you are taking antibiotics or nitroglycerin.
Main Applications
Antioxidant
Anti-mucus in the lungs
Acetaminophen overdose
Immunity
Liver detoxification
Disclaimer
The information and product descriptions appearing on this website are for information purposes only, and are not intended to provide or replace medical advice to individuals from a qualified health care professional. Consult with your physician if you have any health concerns, and before initiating any new diet, exercise, supplement, or other lifestyle changes.