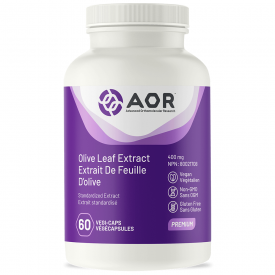 Regular price
AOR Olive Leaf Extract 60 Veggie Caps
---
OLIVE LEAF EXTRACT
POWERFUL ANTIOXIDANT PROTECTION
Gluten Free
Non-GMO
Vegan
A high potency extract of olive leaf
A vital component of the revered Mediterranean diet
Supports healthy immunity
Aids in the maintenance of good health
Olive Leaf Extract is an excellent supplement for those desiring some of the antioxidant and general health benefits of the Mediterranean diet. Olive products are a key part of Mediterranean diets, and olive leaves have been widely used by the Greeks and Romans for centuries.
Olive Leaf Extract is standardized for oleuropein which is its main active constituent. Oleuropein is metabolized to hydroxytyrosol in the body, which is considered one of the most powerful antioxidants available. Antioxidant activity is integral to healthy immune system function and cellular health. Olive leaf extract is used clinically to stimulate the immune system and to combat bacterial and viral infections. It is the ideal formula for someone looking for broad-spectrum immune support and antioxidant protection.
AOR Advantage
The active ingredients in olive leaf extract have an impressive range of benefits for optimal health. AOR's Olive Leaf Extract provides the highest potency of the extract available standardized for 75 mg of oleuropein, which is responsible for many of its powerful antioxidant effects.
Guarantees
AOR™ guarantees that all ingredients have been declared on the label. Contains no wheat, gluten, nuts, peanuts, sesame seeds, sulphites, mustard, soy, dairy, eggs, fish, shellfish or any animal by product.
Main Applications
Antioxidant
Heart health
Immune support
Antioxidant, antiviral, antibacterial, antimicrobial
Disclaimer
The information and product descriptions appearing on this website are for information purposes only, and are not intended to provide or replace medical advice to individuals from a qualified health care professional. Consult with your physician if you have any health concerns, and before initiating any new diet, exercise, supplement, or other lifestyle changes.