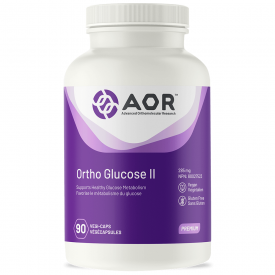 Regular price
AOR Ortho Glucose II 90 Veggie Caps
---
ORTHO GLUCOSE II
SUPPORTS HEALTHY GLUCOSE METABOLISM
Gluten Free
Vegan
Provides nutrients and herbal extracts that support healthy blood sugar levels
Increases insulin sensitivity
Reduces the risk of diabetic complications
AOR's premium blood sugar balance formula
With every meal that we eat, our bodies break down the carbohydrate portion of the meal into simple sugars, such as glucose, which can then be used for energy or stored as fat for a later time. Unfortunately, a poor diet and lifestyle can lead to poorly controlled blood sugar, impaired insulin production and eventually Type 2 Diabetes. High blood sugar or hyperglycemia is a risk factor for almost every degenerative disease, especially cardiovascular diseases. It produces inflammation, toxins and damage to the cells of the body which accelerates aging, weight gain, skin disorders and reduces life span.
Ortho Glucose II supports healthy blood sugar metabolism and may help reduce the symptoms of hyperglycemia. Hyperglycemia, or high blood sugar, increases the risk of many serious health complications including cardiovascular disease, retinal damage, blindness, neuropathy and many others. The ingredients in Ortho Glucose II have been shown to enhance the activity of insulin, improve the cellular uptake of glucose, and promote pancreatic function to produce more insulin. Ortho Glucose II also reduces the risk of complications resulting from chronic high blood sugar levels such as numbness and tingling in the fingers and toes, high cholesterol and heart disease.
AOR Advantage
Ortho Glucose II is AOR's premium blood sugar balance formula, containing the most well-researched nutrients and plant extracts studied in diabetic subjects. They have been shown to reduce elevations in blood sugar levels, potentiate the action of insulin, improve the cellular utilization of glucose and reduce risk factors for complications associated with diabetes. Ortho Glucose II is the ideal choice for those trying to regain normal carbohydrate metabolism and striving to achieve normal blood glucose levels while protecting against the harmful effects of high blood sugar, all in one formula.
Guarantees
AOR™ guarantees that all ingredients have been declared on the label. Contains no wheat, gluten, nuts, peanuts, sesame seeds, sulphites, mustard, soy, dairy, eggs, fish, shellfish or any animal byproduct.
Main Application
Insulin sensitivity
Blood sugar balance
Nerve function
Weight loss
Disclaimer
The information and product descriptions appearing on this website are for information purposes only, and are not intended to provide or replace medical advice to individuals from a qualified health care professional. Consult with your physician if you have any health concerns, and before initiating any new diet, exercise, supplement, or other lifestyle changes.