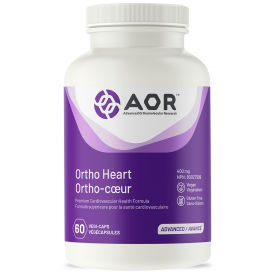 Regular price
AOR Ortho Heart 60 Veggie Caps
---
ORTHO HEART
PREMIUM CARDIOVASCULAR HEALTH FORMULA
Non-GMO
Vegan
Provides nutrients and plant extracts that promote vascular health
Maintains healthy blood pressure
Helps to reduce blood lipid levels
A unique heart support formula exclusively from AOR
Cardiovascular health is the sum of the health of many different body functions: blood lipids, blood pressure, vascular health, heart muscle health, and electrical function, to name a few. Ortho Heart is designed to promote cardiovascular health through multiple mechanisms.
Garlic extract helps to balance blood lipids and cholesterol, while L-theanine promotes relaxation, stress relief and quality sleep – all of which can have a beneficial influence on blood pressure. Chlorogenic acid from green coffee bean extract supports weight management and has been shown to help lower blood pressure. Nitric oxide improves blood vessel function and blood flow by dilating blood vessels and improving their flexibility – potassium nitrate and vitamin C support the production of this important nutrient. Lastly, studies support the ability of hibiscus to promote healthy blood pressure. This is key since high blood pressure, also known as the silent killer, tends not to produce symptoms until it is severe.
Those with a family history of blood pressure or cholesterol problems, or those looking to support their heart health and blood pressure naturally can benefit from taking Ortho Heart.
AOR Advantage
Before green coffee bean extract was known for weight loss, AOR's heart and blood pressure health formula contained this now famous extract. Potassium nitrate, mixed vegetable concentrate and Vitamin C work together to yield a high production of nitric oxide in the body, higher than any nitrate or nitric oxide supplement on the market. L-Theanine helps produce GABA in the body, reduces anxiety and may improve sleep, which are important factors in heart health. Ortho Heart features Hibiscus, whose heart health benefits are not yet well known, as well as the age-old remedy of garlic to maintain good heart health.
Guarantees
AOR™ guarantees that all ingredients have been declared on the label. Contains no wheat, gluten, peanuts, sulphites, soy, dairy, eggs, fish, shellfish or any animal byproduct.
Main Application
Cholesterol
Blood pressure
Cardiovascular health
Disclaimer
The information and product descriptions appearing on this website are for information purposes only, and are not intended to provide or replace medical advice to individuals from a qualified health care professional. Consult with your physician if you have any health concerns, and before initiating any new diet, exercise, supplement, or other lifestyle changes.