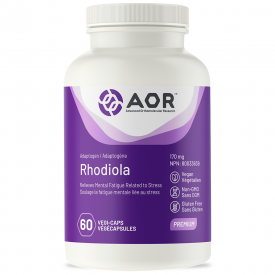 Regular price
AOR Rhodiola 60 Veggie Caps
---
RHODIOLA
HELPS YOUR BODY DEAL WITH STRESS
Gluten Free
Non-GMO
Vegan
A plant extract with powerful adaptogenic activity
Enables the body to make the best use of its energy
Enhances physical and mental performance
A concentrated form of pure Rhodiola rosea root extract in a clinically proven dose
Rhodiola rosea is an herb with a long history of use for helping the body to adapt to the stressors of life. Rhodiola has been listed in the national pharmacopoeias of France, Sweden, Denmark, and Russia as an adaptogen and overall "brain tonic". Adaptogens support the body's ability to handle stress by balancing the levels of hormones and neurotransmitters normally associated with the stress response. Rhodiola is unique among adaptogens in that it has been clinically shown to increase energy reserves and reduce levels of the stress hormone, cortisol. Rhodiola has been found to improve mental performance during night-shift duty, helping reduce fatigue in shift workers as well as the average person suffering from general fatigue.
Rhodiola is the ideal herbal product for those who frequently experience stress, especially those who respond to stressors with a feeling of helplessness. It is especially helpful for shift workers or those with high-stress lifestyles.
AOR Advantage
AOR's Rhodiola is standardized for levels of both rosavin and salidroside to match the extracts used in the best clinical studies, offering superior efficacy compared to products that only standardize for one or the other.
Guarantees
AOR™ guarantees that all ingredients have been declared on the label. Contains no wheat, gluten, corn, nuts, peanuts, sesame seeds, sulphites, mustard, soy, dairy, eggs, fish, shellfish or any animal by-product.
Main Applications
Physical or psychological stress
Immune function
Disclaimer
The information and product descriptions appearing on this website are for information purposes only, and are not intended to provide or replace medical advice to individuals from a qualified health care professional. Consult with your physician if you have any health concerns, and before initiating any new diet, exercise, supplement, or other lifestyle changes.