Regular price
Botanica Perfect Protein Elevated Brain Booster
---
Botanica Perfect Protein Elevated Brain Booster is an organic plant protein blended with brain-boosting superfoods. With 20g of sprouted plant protein packed with naturally occurring vitamins, minerals, antioxidants, healthy fats, fibre, and brain-boosting superfoods, Perfect Protein Elevated is an easy all-in-one approach.
Lion's Mane is rich in antioxidants

Rhodiola helps reduce stress, improve mood and enhance focus and mental performance

Whole food B Vitamins from sprouted quinoa help to optimize energy levels
Features:
Organic and Non GMO

Sprouted & fermented plant protein
Stevia Free
Sugar Free
Gluten Free
Soy Free
Vegan friendly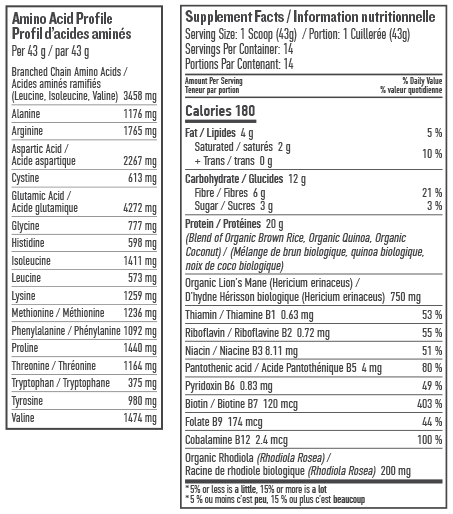 Other Ingredients:
Organic Vanilla Flavour, Organic Monk Fruit Extract, Organic Coconut, B Vitamin, Enriched Organic Quinoa Sprout.