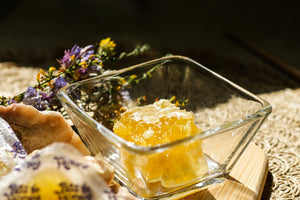 Regular price
Burkes Honey Comb 220g
---
Burke's Honey has been processing and packing honey for over 100 years
Canada is perhaps best known for its mild flavoured, light coloured clover honey, but it also produces a variety of other unique flavours. Buckwheat honey is dark in colour and has a strong distinctive flavour. Wildflower honey is a deep golden with a flavour stronger than clover, but not as strong as buckwheat. Wildflower honey's flavour can vary slightly from year to year, and area to area, depending on which wildflowers were in abundance..
Canada is renowned for its low moisture honey. Canada No.1 honey has a maximum moisture content of only 17.8%. This, along with Canada's very high quality standards and regulations, allows it to retain its high-quality for long period of time.

Canada can be counted on for quality honey year after year.