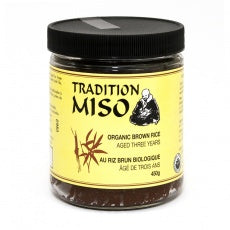 Regular price
Tradition Miso, Brown Rice 3 Year Miso - 450g
---
Made from fermented brown rice and soybeans and sundried sea salt, Tradition's Brown Rice Miso is a versatile flavour enhancer to soups, sauces, and marinades. Aged for 3 years and unpasturized, it is plentiful in probiotics. An excellent source of protein Produced in Claremont, Ontario by one of the original founders of The Big Carrot in Toronto.
Our Mission:
"To bring the ancient craft of producing fine Miso,
to Canada and North America"
The best miso, like fine wine or a great violin, requires the purest, high quality ingredients, combined and prepared in a time-honoured recipe, and patiently matured to perfection.
Tradition Miso Inc. is one of only a handful of companies in North America with the patience and dedication to make only the best, pure miso.
Our miso is unpasteurized and certified organic, contains no sugar, preservatives or filler. Unlike the commercial product, Tradition Miso is made the old way, aged up to three and four full years.
Ingredients: organic soybeans,
organic brown rice, unrefined sundried sea salt, deep well water,
culture (aspergillus oryzae)
- aged over 3 years in cypress-wood
- full savoury flavour
- gluten free