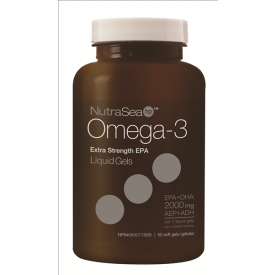 Regular price
NutraSea HP Omega-3 Extra Strength EPA Fresh Mint 60 Softgels
---
NUTRASEA™ HP OMEGA-3 EXTRA STRENGTH EPA

FRESH MINT FLAVOUR - NO FISHY BURP BACK

2000 mg of EPA+DHA per two liquid gels
Extra strength EPA omega-3 supplement ; 1500 mg EPA + 500 mg DHA
Beneficial for the maintenance of good health and brain function
Guaranteed pure

RECOMMENDED USE: BENEFICIAL FOR THE MAINTENANCE OF GOOD HEALTH. HELPS SUPPORT COGNITIVE HEALTH AND/OR BRAIN FUNCTION.

NutraSea hp+D is our most potent omega-3 supplement, with 1,500 mg of EPA, 500 mg of DHA. With 2000 mg EPA+DHA, this formulation can support the maintenance of overall good health, cardiovascular health, brain function, and more.