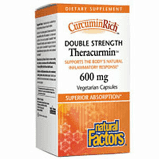 Regular price
CurcuminRich™ Theracurmin (Double Strength)
---
Theracurmin represents a major scientific breakthrough in curcumin pharmacology, with both animal and human studies showing no side effects and significantly better results than other curcumin preparations. The first step in manufacturing Theracurmin is solubilizing it within a vegetable gum known as gum ghatti. The next step is grinding the curcumin mixture using a wet-grinding mill to produce microscopic particles that are 100 times smaller than regular curcumin powder. A homogenizer then disperses these particles to create a colloidal suspension that readily mixes with water. The combination of reduced particle size and improved solubility ensures that a therapeutically effective level of curcumin is absorbed into the bloodstream, where it lasts for hours.
Making Theracurmin even more special is its natural composition. Theracurmin is a natural preparation that utilizes advanced techniques to dramatically increase curcumin solubility and bioavailability. To create Theracurmin, curcumin is mixed with a vegetable gum (gum ghatti) and ground in a wet-mill to reduce the curcumin particle size. This process is entirely natural, involves no synthetic chemicals, and uses mechanical means to produce a highly absorbable colloidal suspension.
Nineteen studies have been published so far on Theracurmin to verify its safety and efficacy, with additional clinical trials underway. All published clinical trials on the patented Theracurmin formula show positive health benefits.
Best absorbed form of curcumin on the market‡
More published, randomized controlled trials than any other curcumin product
Available in regular, double strength, and four new Optimizer formulas
More bioavailable than other leading forms of curcumin‡
More double-blind clinical trials than any other curcumin product
Provides antioxidants for the maintenance of good health
Contains microscopic curcumin particles in a natural colloidal suspension that is absorbed into the blood faster, and stays there longer