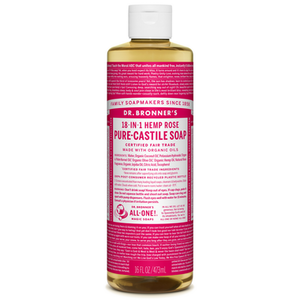 Regular price
Dr. Bronner's Organic Pure Castile Liquid Soap Rose
---
Sal Suds is a balanced formulation of naturally derived surfactants with pure fir and spruce essential oils: it cleans and rinses with exceptional power yet is mild and gentle on the skin. Sal Suds is not soap-based and is formulated especially for all-purpose hard-surface cleaning. Available in 32 oz. bottle. Perfect for general household cleaning: dishes floors laundry etc. Equally effective in hard or soft water rinsing freely hot or cold. Concentrated and self-preserving: no hidden preservatives or ingredients. No synthetic dyes or fragrances: all ingredients fully disclosed and described. Biodegrades rapidly after doing its job. Pure high-quality fir and spruce essential oils: no cheap harsh pine stump oil. No animal testing: Coalition for Consumer Information on Cosmetics certified.

INGREDIENTS:
Water, Sodium Lauryl Sulfate, Coco-Betaine, Lauryl Glucoside, Fir Needle Oil, Spruce Oil

Sodium Lauryl Sulfate (SLS): This surfactant cuts grease and dirt, generates copious suds, and biodegrades quickly and completely. SLS is made by combining a sulfate group with lauryl alcohol from coconut oil, then attaching sodium. If improperly formulated, SLS can irritate skin, but our superb formula uses coco-betaine and lauryl glucoside to counter this. Coco-Betaine: Mild and easily biodegradable, coco-betaine is formed by combining coconut fatty acids with betaine (a nature-identical synthetic so-named because it was first discovered in sugar beets). This foam-boosting cleansing agent buffers irritation caused by SLS. Lauryl Glucoside: This powerful grease-cutting surfactant is especially mild and quickly biodegradable, and is made by combining glucose from corn with fatty alcohols from coconut and palm kernel oils. Lauryl glucoside not only works with SLS to cut dirt and oily soils with exceptional ease, but also combines with coco-betaine to give Sal Suds smooth mildness. Fir Needle Oil & Spruce Oil: Pure essential oils from fir and spruce give Sal Suds its wonderful aroma. Most other cleansers use synthetic fragrances or cheap harsh pine stump oil.