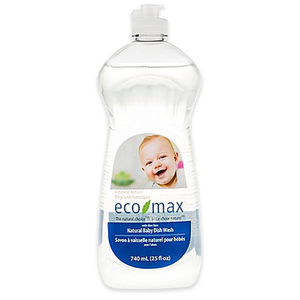 Regular price
eco-max Baby Dish Wash
---
eco-max Baby Dish Wash is hypoallergenic and scent free. It is gentle on parents' hands and is great for cleaning baby bottles, sippy cups, pacifiers and breast pump components, naturally.  

eco-max Baby Dish Wash is formulated utilizing potent cleaning properties of various ingredients derived from natural, biodegradable, renewable and sustainable botanical resources. This formula includes Aloe Vera for safe healing and moisturizing.

Features & Benefits:

100% plant based and readily biodegradable ingredients
Rapid rinsing
Gentle to the skin and surfaces
Safe for septic tanks
Safe for aquatic species
No animal testing    
Ingredients: Water, Plant based surfactants, Salt (Food Grade), Sodium Citrate (Food Grade), Citric Acid (Food Grade), Aloe Vera Extract, Potassium Sorbate (Food Grade).