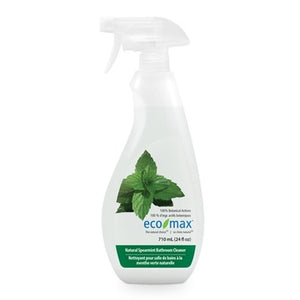 Regular price
eco-max Bathroom Cleaner, Natural Spearmint 710 mL
---
This natural product combines potent cleaning and aroma therapeutic properties of ingredients derived from biodegradable, renewable and sustainable botanical resources. The fresh minty aroma of natural spearmint oil is invigorating and energizing. eco-max Bathroom Cleaner allows you to effectively and safely cleans and neutralizes odours from all bathroom surfaces such as toilet bowls, bath tubs, sinks, counter tops, mirrors, shower stalls and washroom fixtures.
Features & Benefits:
High Performance Cleaner
100% Plant Based Ingredients
Non-Toxic
Non-Toxic to Aquatic Life
Gentle to skin and surfaces
Negligible Indoor Air Pollution
Readily Biodegradable
Safe around pets and children
No Animal Testing
Exceeds EcoLogo Requirements
100% Recyclable Packaging
Directions:
Spray product onto surface and wipe clean using a dampy sponge or cloth.
Ingredients:
Water, Plant based Alkyl Polyglycosides, Food grade Sodium Citrate water softening agent, Food grade Citric Acid and Therapeutic grade Spearmint essential oil.