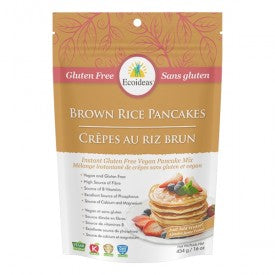 Regular price
Ecoideas Brown Rice Pancake Mix 454g
---
BROWN RICE PANCAKES

High Source of Fibre
Source of B Vitamins
Excellent Source of Phosphorus
Source of Calcium
Source of Magnesium
Vegan
Gluten Free
Kosher
Non GMO

Ecoideas baking mixes are nutritious and easy to make. Just add water to these instant baking mixes for delicious gluten free, vegan baked goods. Enjoy rich vegan chocolate cake or a hot pancake breakfast, packed with fibre, calcium, magnesium and more!