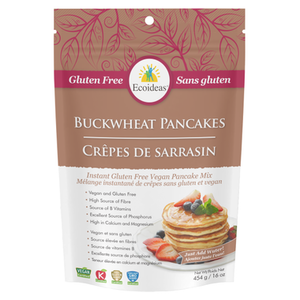 Regular price
Ecoideas Buckwheat Pancake Mix
---
Contrary to its name, buckwheat is not wheat but a small nutritious seed that contains no gluten. Ecoideas Buckwheat Pancake Mix is a quick way to have a delicious hot breakfast that is also nutritious. Buckwheat pancakes are a high source of fibre and an excellent source of phosphorus. They are high in calcium, folate (vit.B9) and magnesium. They are also considered a source of iron, zinc, riboflavin, thiamin (vit.B1) and niacin (vit.B3). Nutritious, tasty and easy to make-great reasons to enjoy a hot pancake breakfast!
Features:
Certified Vegan 
Kosher
Gluten Guard Certified
GMO Guard Certified
Ingredients:
Buckwheat flour*, Urid*, Brown rice flour*, Sorghum flour*, Moong bean flour*, Evaporated cane juice*, Gluten free baking powder (GMO Free), LumiereSel Himalayan salt.

*Certified Organic Ingredient