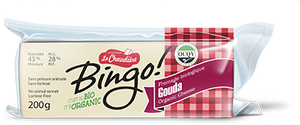 Regular price
Fromagerie La Chaudière, Organic Gouda
---
Organic Gouda Cheese
If you've got a yen for a delicate blend of creamy aromas and the hints of almond and hazelnut, yell out BINGO! Because that's exactly what you get with our organic Gouda.
To spell it all out, our ORGANIC GOUDA is
• Firm
• 28% M.F.
• 43% moisture
• Lactose-free firm, pale beige, rindless, and made from organic milk using microbial enzymes from plants and thus no animal rennet.