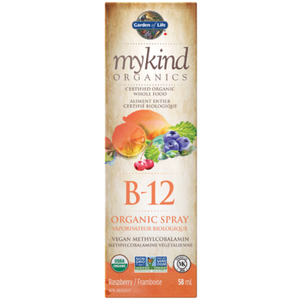 Regular price
Garden of Life MyKind Organics Vitamin B-12 Organic Raspberry Spray
---
Finally, a whole food vitamin B-12 formula that's both Certified USDA Organic and Non-GMO Project Verified—in a great-tasting raspberry spray. This vegan Organic B-12 is in the form of methylcobalamin, which is the highly absorbable, active, natural form of B-12—like the B-12 in the body. Vitamin B-12 is known as the "memory vitamin," and is water-soluble, so it needs to be replenished daily. Vegans and vegetarians, can find themselves short on B-12, since B-12 is usually found in meat and dairy—all no-nos for vegans.
Benefits:
Promotes concentration and energy
Supports metabolism
Supports heart health
Made from Certified Organic Whole Foods from Organic Farms
Kosher-Made (Pareve—No Meat or Dairy)
Soy Free

Suggested Use:
Take 1 spray daily or as recommended by your healthcare practitioner. Refrigerate after opening and consume within 60 days. Each Spray (0.41 mL). Servings Per Container Approximately 140.
Medicinal Ingredient (per spray):
 Vitamin B12 (Methylcobalamin) 500 mcg (*RAW Food-Created NutrientsTM). 
Non-Medicinal Ingredients:
Organic Fruit Blend (Organic Strawberry, Organic Cherry, Organic Blackberry, Organic Blueberry, Organic Raspberry), Organic Vegetable Blend (Organic Beet, Organic Carrot, Organic Spinach, Organic Broccoli, Organic Tomato, Organic Kale, Organic Red Cabbage, Organic Parsley, Organic Brussels Sprout, Organic Green Bell Pepper, Organic Cucumber, Organic Celery, Organic Garlic, Organic Ginger, Organic Green Onion, Organic Cauliflower, Organic Asparagus), Purified Water, Organic Glycerin, Organic Apple Juice, Organic Citrus Extract, Organic Lemon Juice Concentrate, Organic Rebaudioside A (Stevia Extract), Organic Raspberry Flavor, Dried Yeast (Saccharomyces cerevisiae).