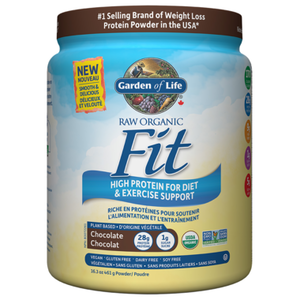 Regular price
Garden of Life Raw Organic Fit Chocolate
---
Garden of Life Raw Organic Fit is a plant-based, high-protein powder specifically designed for diet and exercise support. It differs from Garden of Life's other proteins because it has several additional ingredients, including Green Coffee Bean Extract and Organic Ashwagandha, to support healthy glucose metabolism and the maintenance of normal blood glucose levels. 
28g of complete protein
Pea protein and 13 sprouted grains, seeds and legumes
3 Billion CFU Probiotics
11 Non GMO Enzymes
Features: 
Organic and Non GMO
Gluten Free
Vegan friendly
Raw
Soy Free
Kosher
Medicinal Ingredients:
Organic Protein Blend: Organic Pea Protein, Organic Rice Protein, Organic Chia Seed, Organic Flax Seed, Organic Chlorella.
Organic Sprout Blend: 
Organic Daikon Radish Sprout, Organic Alfalfa Sprout, 
Organic Amaranth Sprout, Organic Quinoa Sprout, Organic Millet Sprout, Organic Buckwheat Sprout, Organic Garbanzo Bean Sprout, Organic Lentil Sprout, Organic Adzuki Sprout, Organic Sunflower Sprout, Organic Pumpkin Sprout, Organic Sesame Sprout.
Organic Fit Booster Blend: Organic Svetol Green Coffee Bean Extract, Organic Ashwagandha Extract.
Raw Food-Created Nutrients: Vitamin E, Beta-carotene, Vitamin D2, Vitamin K1.
Raw Probiotic Blend 3 Billion CFU: Lactobacillus acidophilus, Lactobacillus plantarum.
Enzyme Blend: Lipase, Protease, beta-Glucanase, Cellulase,  Phytase, Lactase, Papain, Pectinase, Xylanase, 
Hemicellulase,
Bromelain,
Non-Medicinal Ingredients: Organic Taioca Starch, Organic Cocoa,
 Organic Natural Flavor, 
Organic Baobab Fruit, Organic Stevia Leaf, Sea Salt, Organic Cinnamon.