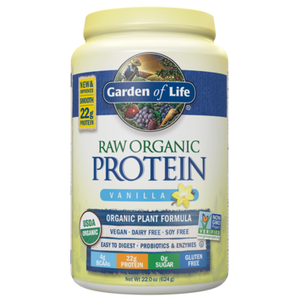 Regular price
Garden of Life Raw Organic Protein Vanilla
---
Packed with 22 grams of organic plant protein, provided by 14 organic grains, seeds & legumes. This is one of the cleanest protein powders, perfect for helping to build and repair muscle while satisfying your taste buds.
Features:

Organic and Non GMO
0g of sugar
Easy to digest
Soy Free
Gluten Free
Raw
Kosher
Medicinal Ingredients: 
Organic Protein Blend: Organic Pea Protein, Organic Sprouted Brown Rice Protein, Organic Cracked Wall Chlorella, Organic Amaranth Sprout, Organic Buckwheat Sprout, Organic Millet Sprout, Organic Quinoa Sprout, Organic Chia Seed Sprout, Organic Garbanzo Bean Sprout, Organic Lentil Sprout, Organic Adzuki Bean Sprout, Organic Flax Seed Sprout, Organic Sunflower Seed Sprout, Organic Pumpkin Seed Sprout, Organic Sesame Seed Sprout.
Raw Probiotic & Enzyme Blend: Enzyme Blend [Lipase (Aspergillus niger) 7 FCC LU, Protease (Aspergillus flavus var. oryzae) 795 FCC HUT, Aspergillus acid protease (Aspergillus niger) 4 FCC SAPU, Beta-glucanase (Trichoderma longibrachiatum) 1 FCC BGU, Cellulase (Aspergillus niger) 69 FCC CU, Bromelain (Ananas comosus var. comosus stem) 21,429 FCC PU, Phytase (Aspergillus niger) 2 FCC FTU, Lactase (Aspergillus flavus var. oryzae) 57 FCC ALU, Papain (Carica papaya fruit) 26,667 FCC PU, Pectinase (Aspergillus niger) 2 Endo-PG, Hemicellulase (Aspergillus niger) 71 FCC HCU, Xylanase (Trichoderma ongibrachiatum) 18 FCC XU] Probiotics 3 Billion CFU [Lactobacillus acidophilus La-14 1 Billion CFU, Lactobacillus plantarum Lp-115 1.98 Billion CFU, Lactobacillus delbrueckii subsp. bulgaricus Lb-87 0.02 Billion CFU].
Vitamin D2 (Ergocalciferol) 10.9 mcg, Vitamin K1 4.83 mcg, Vitamin E (d-alpha tocopherol) 3.45 mg AT, Beta-Carotene 120 mcg.

Non-Medicinal Ingredients: Organic Erythritol, Organic Guar Gum, Organic Carob Bean Gum, Organic Natural Flavour, Organic Stevia Leaf, Sea Salt.