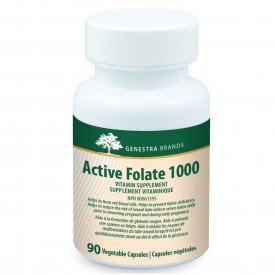 Regular price
Genestra Active Folate 1000 90 Veggie Caps
---
ACTIVE FOLATE 1000

Helps to reduce the risk of neural tube defects (NTD) when taken daily prior to becoming pregnant and during early pregnancy
Helps to prevent folate deficiency
Helps the body to metabolize proteins and form red blood cells
Provides 1,000 mcg of folate per day from Metafolin
Dairy Free
Gluten Free
Vegan

Active Folate 1000 provides 1,000 mcg of folate per day from Metafolin – a pure, physiologically active and bioavailable form of the folate found naturally in foods. Folate is primarily involved in cell division and is required for the synthesis of nucleotides and red blood cells. Folate requirements increase during pregnancy as a result of the rise in cell division and metabolism necessary for healthy placental and fetal development. Unfortunately, approximately 20 percent of Canadian women of childbearing age do not meet the recommended amount of folate for pregnancy. Supplementation has been shown to be the most effective method for raising folate status, yielding superior results to dietary intake. Daily supplementation with 400 mcg of folic acid during the first trimester helps to decrease the development of NTD by approximately 50%; however, 800 mcg daily may help reduce the risk by nearly 70%.
Ingredient

Folate (calcium L-5-methyltetrahydrofolate, Metafolin) .............................. 1000 mcg

Non-Medicinal Ingredients: Cellulose, hypromellose