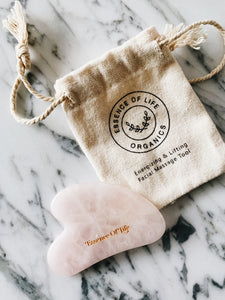 Regular price
Gua Sha Tool, Rose Quartz
---
Gua Sha—a facial massage tool that enhances beauty rituals by promoting the lifting and smoothing of the skin, leaving the face lifted and radiant after use.  
Gua Sha has been practiced in Traditional Chinese Medicine for thousands of years. Perfected throughout the centuries, this Rose Quartz gua sha tool was built to have a firming, lifting effect on the skin.
Rise Quartz emits soothing vibrations, which makes it a very powerful tool to relieve tension that builds up in the face (face tension = haggard + tired appearance). It is also thought that Rose Quartz can help reverse negative effects of wrinkles and acne.
Rose Quartz readily warms to the temperature of your skin. Rose Quartz is associated with the heart chakra and promotes feelings of self-acceptance, self-love, and restores harmony and trust in relationships.
The Rose Quartz Gua Sha tool helps to:
Decrease puffiness in the skin
Increase lymphatic drainage
Improve blood circulation
Best when used in conjunction with a beauty face oil
Made from 100% authentic rose quartz
How to use:
- Start with a clean face and prep skin with a facial oil or serum.
-Keep the tool flat against the face and begin with the forehead. Scrape in an upwards motion from the eyebrows to the hairline.
- Move to the cheeks and scrape in an outwards motion starting from the crease of the nose until the ear.
- Move to the jawline and use the end of the gua sha tool with the two curves. Start from the chin and scrape until the ear. Gently massage the gua sha tool into the ear to release tension.
- For the under-eye area, very gently scrape the gua sha tool from the inner corner of the eye outwards to the temple. Because the area is so sensitive, it is important to only apply light pressure.