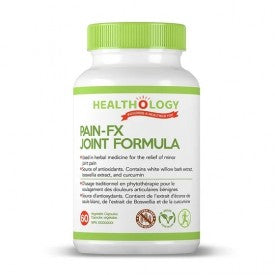 Regular price
Healthology Pain-FX Joint Formula 60 Veggie Caps
---
PAIN-FX JOINT FORMULA
Vegan
Gluten Free
Non-GMO
PAIN-FX provides relief from pain by targeting both the pain itself and the inflammatory component of the pain-cycle.
Pain is the body's way of telling us that something is wrong. It might be due to an injury, exposure to an irritant, wear-and-tear, or a chronic health issue. When we feel pain, our body is sending a signal to the brain that says, "Look over here! We don't like this! Make this stop!". If the pain source is something as simple as a pebble in our shoe, we simply remove the pebble and move on. However, most sources of pain are internal, so it may not be so easy to fix the problem.
Inflammation always comes hand-in-hand with pain. Inflammation is the body's healthy response to pain because it brings blood flow to the area, which brings nutrients and mediators that repair damage to the site of pain. In a healthy pain-response cycle, we experience pain, remove the source of that pain, send inflammatory mediators to the site to heal damage, and then we clean up any debris so that the area returns to normal.
However, if we have prolonged or repeated exposure to sources of pain, such as joint degradation in arthritis, hormonal imbalances causing menstrual pain, or stress causing migraines, the pain-response cycle changes. We develop long-standing, chronic inflammation that can itself worsen our feelings of pain. Basically, it becomes a chicken-and-egg situation between chronic pain and inflammation, so both elements need to be addressed in order to break the cycle of pain.
Pain, especially chronic pain, profoundly impacts our quality of life. It may reduce mobility, lessen our independence, and limit our daily activities1. Chronic pain can also cause depression, anxiety, insomnia, fatigue, and memory impairment1.
PAIN-FX provides relief from pain by targeting both the pain itself and the inflammatory component of the pain-cycle. It is an analgesic, anti-inflammatory and an antioxidant, meaning it reduces our sensation of pain while it blocks the production of inflammatory mediators, and it protects the body from damage caused by inflammation.
Dr. Hilary's Lifestyle Tips To Reduce Pain
Eat an anti-inflammatory diet: Focus on a diet rich in whole foods with as little processed food as possible. Shop around the outside edges of the grocery store so that veggies, lean protein, legumes, nuts and seeds are the staples of your diet.
Avoid pro-inflammatory foods: In some people, specific foods may worsen inflammation and pain. Common culprits include gluten, dairy, sugar, and vegetables from the nightshade family (tomato, potato, eggplant and peppers).
Heal the gut: Most of our inflammatory mediators are made in the digestive tract. If you're experiencing both pain and digestive issues (bloating, constipation, diarrhea) then improving digestion should be part of your plain to reduce pain.
Reduce stress: Pain, and the conditions that cause pain, are worsened by stress8. Setting boundaries, being comfortable with saying no or asking for help, and spending time doing things you love are all helpful for stress reduction.
Meditate: There is a huge amount of research to support mindfulness mediation for pain management. Start small, with a guided meditation app to help you learn the ropes. Even 5-10 minutes of meditation per day improves pain and overall wellbeing9
Treat the cause: Order lab testing or imaging to get a diagnosis of what is causing the pain, and then take steps to treat the underlying issue.
Pain is a signal that there's injury or damage to the body. In response to pain the body sends inflammatory mediators to the site, which are necessary for the healing process but can perpetuate and worsen pain. Pain can have a profoundly negative impact on our daily life, including limiting mobility, and causing depression, insomnia and fatigue.
We should always work to identify and fix the cause of pain, but that can be challenging in circumstances where pain is caused by a chronic health condition. We can, however, reduce the body's inflammatory response through eating an anti-inflammatory diet, healing the gut, reducing stress, and meditating. PAIN-FX provides additional support through reducing our sensation of pain, limiting inflammation, and protecting the body from oxidative damage. PAIN-FX helps to break the cycle of inflammation to provide relief from pain.
Ingredients:
Each Capsule Contains
White Willow Bark Extract (Salix alba – young branch bark) 50% Salicin...........................................................120mg
Boswellia Extract (Boswellia serrata – stem bark oleogum resin) 65% Boswellic Acids.....................................150mg
Curcumin (Curcuma longa – rhizome).................................................................................................................100mg
Non-Medicinal Ingredients: Vegetable Capsule Shell (Hypromellose), Oryza sativa (Rice) hull powder, Silicon dioxide
Priority Allergen: None
Healthology does not use genetically modified ingredients. Allingredients are NON-GMO / GMO FREE.