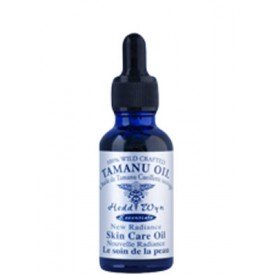 Regular price
Hedd Wyn Tamanu Oil
---
Proven effective for:
Pimples and scarring
Age spots
Wrinkle lines
Scar tissue
Dry, red and scaly skin
Stretch marks
Sunburn
Insect bites
Burns
You can get great results using Tamanu oil for any skin type or skin condition.
Antioxidant: Tamanu oil has powerful antioxidant properties which inhibit oxidative damage to the skin.
Rejuvenates skin: Few, if any, skin products can rival Tamanu oil for its ability to rejuvenate and repair your skin. Tamanu oil is able to penetrate all three skin layers. Its proven antimicrobial, antioxidant,and anti-inflammatory qualities also improve skin rejuvenation and repair. Tamanu oil is safe to use even on broken skin.
Absorbs quickly/Good appearance: Tamanu oil is readily absorbed by the skin and does not leave a greasy appearance. It works rapidly to eliminate fine lines.
Application: Apply New Radiance Tamanu oil straight to the skin. For more rapid results you may use multiple times daily. Use after bathing to moisturize and protect your skin.
Pets and other animals: You may safely use New Radiance Tamanu oil on your four legged friends to treat skin disorders and speed healing on wounds.