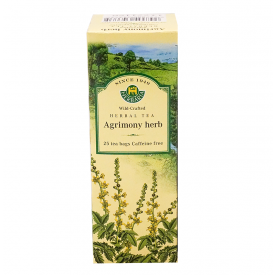 Regular price
Herbaria Agrimony Herb 25 Tea Bags
---
AGRIMONY TEA
Agrimonia Eupatoria
Wild Crafted
Caffeine Free
May aid in the promotion of overall liver and gallbladder health
May provide benefits as a blood purifier
May help to relieve skin ailments, including acne
Used for a period stretching back through millennia, Agrimony – which is derived from the Greek word Agremone roughly translating to 'plant that heals the eye' was celebrated by both the Greeks and Romans.
Agrimony is a member of the Rose family, with over a dozen varieties found growing throughout Europe, Asia and North America. This robust herb grows well both wild and in garden cultivation.
Medicinally, Agrimony has been used as a diuretic, in the promotion of liver health, as a blood purifier and also in the treatment of skin eruptions, including acne.