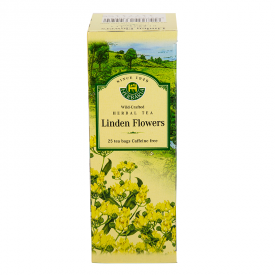 Regular price
Herbaria Linden Flowers 25 Tea Bags
---
LINDEN FLOWERS (FLORES TILIAE)
Good for bronchitis and coughs
Linden helps to combat infections of the upper respiratory track
Traditionally used in fever, colds and flu
Helps reduce nervous states affecting digestion and bowel function
Brings a soothing effect to the body
Wild Crafted
Caffeine Free
Linden tea is made from the flowers of the Linden tree, a tall deciduous tree that grows to 35m with a smooth bark white and toothed, heart-shaped leaves.
Linden flowers first appear as hanging cymes with a sweet aroma in the Spring. Linden flowers are also known as Lime Flowers in Europe.
They make a particularly soothing and tasty tea.