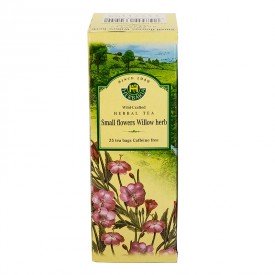 Regular price
Herbaria Small Flowers Willow Herb 25 Tea Bags
---
SMALL FLOWERS WILLOW-HERB (EPILOBII HERBA)
Traditionally used to relieve prostate, kidney and urinary tract disorders.
Used by Native Americans for its supportive nutrients.
Wild Crafted
Caffeine Free
Herbal Tea
Willow-Herb has a long, though less well-known, history of use in traditional herbal medicine.
Its shoots were traditionally gathered by Native American people, offering a source of Vitamin C when consumed in raw form.
In Europe, it has long been consumed as a tea, offering benefit for the treatment of prostate, kidney and urinary tract disorders.
Willow-Herb is also well-known as 'Fireweed'.