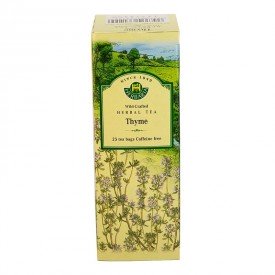 Regular price
Herbaria Thyme 25 Tea Bags
---
THYME (THYMI VULGARIS HERBA)
Powerful antibacterial and antiviral properties
Traditionally used in the treatment of coughs, bronchitis and inflammation of breathing passages
May offer benefit in topical application
Wild Crafted
Caffeine Free
Herbal Tea
Thyme has a long history of traditional use, with flowers that are utilized medicinally for a variety of ailments.
Most commonly, Thyme is used for its anti-viral and antibacterial effects, which may be beneficial in the treatment of coughs, bronchitis and for inflamed airways.
Thyme has also been used traditionally through direct application to the skin, where it may offer further benefit for conditions such as sprains and arthritis.