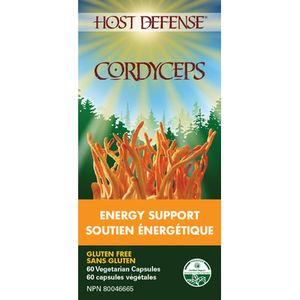 Regular price
Host Defense Cordyceps (Cordyceps Sinensis) Capsules
---
Cordyceps (Cordyceps militaris) has been traditionally used in Asia for strenuous, high altitude activities and as an immune tonic. Physical fitness enthusiasts and professional athletes have discovered that Cordyceps may have the effect of increased oxygen uptake, supporting higher endurance levels.
Ingredients: Cordyceps (Cordyceps sinensis s.l.) Mycelium*, Freeze-dried Myceliated Brown Rice*, Pullulan (an Extracellular Polysaccharide). (*Organic)
Recommended Dosage: Take 2 capsules once per day. Can be taken with food or without, on an empty stomach or as recommended by your healthcare advisor.

Cautions and Warnings: Consult your healthcare advisor regarding the use of this product during pregnancy. Keep out of reach of children