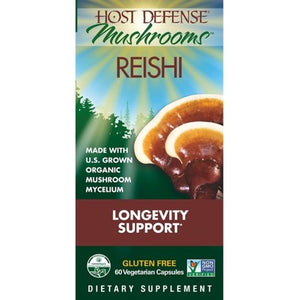 Regular price
Host Defense Reishi (Ganoderma Lucidum) Capsules
---
Host Defense® Reishi Capsules use activated, freeze-dried, Certified Organic mycelium, with a full spectrumof constituents: polysaccharides(beta glucans, arabinoxylane, glucose, xylose, galactose and mannose), glycoproteins, ergosterols, triterpenoids and other myco-nutrients       

Directions:
As a dietary supplement, take 2 capsules once per day. Can be taken with food or on an empty stomach or as recommended by your healthcare advisor.    
Ingredients:
Reishi (Ganoderma lucidum s.l.) Mycelium*, Freeze-dried Myceliated Brown Rice*, Pullulan (An Extracellular Polysaccharide). (*Organic)   
Caution:
Keep out of reach of children.