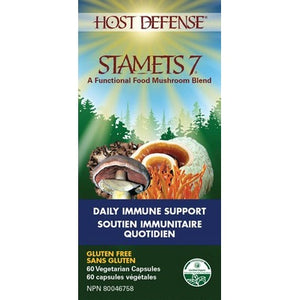 Regular price
Host Defense Stamets 7 Capsules
---
Paul Stamets designed this blend of seven mushroom species (Royal Sun Blazei, Cordyceps, Reishi, Maitake, Lion's Mane, Chaga and Mesima)       

Directions:
As a dietary supplement, take 2 capsules once per day. Can be taken with food or on an empty stomach or as recommended by your healthcare advisor.    
Ingredients:
Royal Sun Blazei (Agaricus brasiliensis) Mycelium*, Cordyceps (Cordyceps sinensis s.l.) Mycelium*, Reishi (Ganoderma lucidum s.l.) Mycelium*, Maitake (Grifola frondosa) Mycelium*, Lion's Mane (Hericium erinaceus) Mycelium*, Chaga (Inonotus obliquus) Mycelium*, Mesima (Phellinus linteus) Mycelium*, Freeze-Dried Myceliated Brown Rice*, Pullulan (An Extracellular Polysaccharide). (*Organic)   
Caution:
Keep out of reach of children.