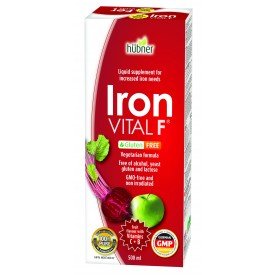 Regular price
Hubner Iron Vital F
---
Floradix® is a unique low-dose tonic of highly soluble iron and whole food concentrates with vitamins B and C.  Replacing lost iron in your body has never been easier. Safe and effective for long term use, and easy on the digestive tract, Floradix® is additive and preservative free.  

Features:
Helps to prevent iron deficiency (anemia)
Eases symptoms of low iron, including fatigue  
Assists the formation of red blood cells and their proper functions
Supports tissue formation and normal growth
Iron gluconate with B vitamins & vitamin C  offers enhanced absorption.
Over 98% of the iron is available for quick potential absorption.
Easy on the digestive tract.
Dairy, lactose, alcohol, GMO, additive & preservative free
No sugar, thickeners or artificial sweeteners
Used by women worldwide for over 60 years
Adults & adolescents 14+: 10ml twice daily before meals
Children 10-14yrs: 10ml once daily before a meal
Children 5-9yrs: 5ml once daily before a meal
Children 2-4yrs: 4ml once daily before a meal
Medicinal ingredients:
Each 10 ml Elemental 10.0 mg contains:
Iron (Ferrous gluconate)
Vitamin B1 2.5 mg 0.25 mg (Thiamine hydrochloride)
Vitamin B2 4.0 mg 0.4 mg (Riboflavin 5-phosphate sodium)
Vitamin B6 2.0 mg 0.2 mg (Pyridoxine hydrochloride)
Vitamin B12 7.5 mcg 0.75 mcg (Cyanocobalamin)
Non-medicinal ingredients:
 Aqueous extracts of carrot, stinging nettle, spinach, couch grass, bitter fennel, kelp, hibiscus; juice concentrates of pear, black grape, black currant, orange, blackberry, cherry and red beetroot; in a base of honey, extracts of rosehip, wheat germ and yeast, natural orange flavour, purified water and ascorbic acid (antioxidant).
This product contains no alcohol, artificial colours or flavours, parabens, sorbates or other antimicrobial agents.
Vegetarian, Dairy Free, Kosher