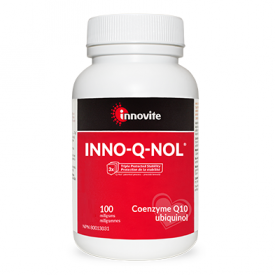 Regular price
Innovite Inno-Q-Nol 100mg 60 Softgels
---
INNO-Q-NOL® (COQ10 UBIQUINOL)

AN ANTIOXIDANT TO MAINTAIN AND SUPPORT CARDIOVASCULAR HEALTH

Key Benefits:

Reduce the risk for cardiovascular disease
Boost energy levels
Provide antioxidant protection

While every cell in the body requires Coenzyme Q10 (CoQ10) to produce energy, the cells in the heart require some of the most significant amounts.  Clinical studies have shown that CoQ10 can reduce the risk for cardiovascular problems. INNO-Q-NOL with clinically proven Kaneka QH® Ubiquinol CoQ10 restores these antioxidant levels to support cardiovascular health.

The INNO-Q-NOL CoQ10 Family

Powered by the patented  Q-Nol® process (US Patent 6,740,338) which ensures ubiquinol in the finished product stays stable (i.e. as ubiquinol) through to product expiration, the INNO-Q-Nol family of products also includes INNO-Q-NOL Blood Pressure and INNO-Q-NOL Carntine.

This year, heart disease will affect more women in Canada than any other disease.  Cardiovascular afflictions can include atherosclerosis, hypertension, stroke and heart attack.

About CoQ10

Coenzyme Q10 (CoQ10) is an extremely important nutrient that every cell in your body must have in order to produce energy. It is naturally found in the energy-producing center of the cell known as the mitochondria, the part of a cell responsible for the production of energy in the form of ATP (Adenosine triphosphate). ATP serves as the cell's major energy source and drives a number of biological processes, including muscle contraction and the production of protein. CoQ10 is involved in making this important molecule.

Ubiquinone vs. Ubiquinol

Ubiquinone is the standard form of CoQ10. The body must automatically convert ubiquinone to ubiquinol - the most body-ready form of CoQ10 - to help in cell energy production by providing quick and efficient replenishment.  Aging inhibits this conversion process hence the requirement for CoQ10 supplementation, where the body-ready ubiquinol form may achieve the most optimal benefits. Human clinical studies have shown that when compared to standard CoQ10 supplements ubiquinol is: 8x better absorbed in the bloodstream; reduces exercise-induced fatigue by 90%; and slows aging by 40%.

INNO-Q-NOL: Kaneka QH® Ubiquinol with Q-Nol® stability

Stabilized ubiquinol from ingredient to product expiration

Ubiquinol by nature is not stable (i.e. reverts back to ubiquinone). Kaneka Corporation, the world's primary CoQ10 producer, has developed a patented process that creates the most highly stabilized form of ubiquinol as a raw ingredient - Kaneka QH® Ubiquinol. While many supplement brands utilize Kaneka QH® Ubiquinol, how it's handled during final manufacturing has a significant impact on the stabilized form and the degree and rate to which natural destabilization will occur.  To ensure the superior efficacy of ubiquinol at the time of ingestion, Innovite Health  utilizes one additional manufacturing step, the patented  Q-Nol® process (US Patent 6,740,338) which ensures ubiquinol in the finished product stays stable (i.e. as ubiquinol) through to product expiration.

Medicinal Ingredients:

 

Each softgel contains:

CoQ10 (Ubiquinol as Kaneka QH™, yeast fermentation)….………………………… 100 mg

 

Non medicinal Ingredients:

 

Medium chain triglycerides, glycerin, gelatin, ascorbyl palmitate, purified water, beeswax, sunflower lecithin and annatto extract.


QUALITY, PURITY AND POTENCY GUARANTEED.

  

Free from wheat, gluten, corn, nuts, peanuts, dairy, eggs, fish, shellfish, yeast, sugar,

starch, soy, GMO, artificial colours, flavours and preservatives.

 

Kaneka QH® is a trademark of Kaneka Corporation.

The use of ascorbyl palmitate to guarantee stability of ubiquinol is covered by US Patent 6,740,338.