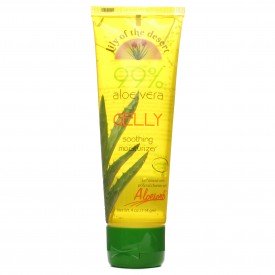 Regular price
Lily of The Desert 99% Aloe Vera Gelly 114g
---
Replenish moisture and hydrate your skin. Aloe vera has been known as nature's moisturizer for thousands of years, and Lily of the Desert's 99% Aloe Vera Gelly instantly cools the skin while hydrating at least 3 epidermal layers. 
HEALTH BENEFITS
Cools skin after prolonged sun exposure
Promotes an attractive and healthy appearance
Reduces the appearance of damaged skin
Soothes tender skin
Hydrates at least 3 epidermal layers
Specially formulated to naturally replenish the skin
Suggested Use: Apply to skin. Repeat as necessary.
Made from Certified Organic Aloe Vera
No Animal Testing, Parabens or Artificial Colors
No Water Added
Bottled in BPA-free Plastic Containers
What is the difference between your Lily Gels and the Gellies?
The 99% Aloe Vera Gelly is specifically formulated to be a topical only. You can use it to help maintain healthy skin. Our Gels, which contain citric acid, are meant to be used internally to help maintain healthy digestion. We do not recommend using the Gels as a topical as the pH levels are different.