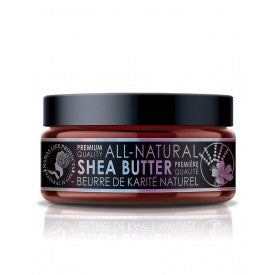 Regular price
Mamas Life Products Shea Butter Lavender 117mL
---
NATURAL SHEA BUTTER WITH LAVENDER
ALL NATURAL SHEA BUTTER LIGHTLY SCENTED WITH LAVENDER. LONG LASTING THERAPEUTIC MOISTURIZER, RICH IN VITAMIN E, A, AND F.
KEY INGREDIENTS & BENEFITS
100% Unrefined Raw Shea Butter: Shea Butter can be used to treat all of the following skin conditions: Dry Skin, Eczema, Infant Eczema, Stretch Mark Prevention & Minimization, Psoriasis, Arthritis & Rheumatism, Wrinkle Prevention, Diaper Rash, Muscle Fatigue, Scar Minimization & Skin Discolorations, Dry Hair & Scalp and as a natural shaving agent. Shea Butter has been used for centuries for its amazing abilities to renew, repair, and protect the skin. Shea Butter helps to alleviate eczema, soothes sunburn, minimizes stretch marks, long lasting moisturizer, rich in vitamin E, A, and F.
Natural Coconut Oil: Rich in Vitamin E, Assist In Anti-Aging, Rich In Protein, Tissue Repair, Excellent Moisturize For Dry And Hard Skin, Excellent Exfoliant.
Organic Lavender Essential Oil: Helps to Alleviate Nervous Tension & Stress, Relieve Pain, Disinfect the Scalp & Skin, Enhance Blood Circulation, Boost Immune System & Treat Respiratory Problems.
WHAT IT DOES
Moisturizes dry skin, rich in vitamin E, antibacterial properties, assist in anti-aging, tissue repair, prevention of skin infections, therapeutic properties for stress & anxiety.
ngredient List: Raw Shea Butter, Organic Coconut Oil, Grapefruit Lavender Seed Extract, Rosemary, Orange & Lavender Essential Oils.
Scent: Lavender