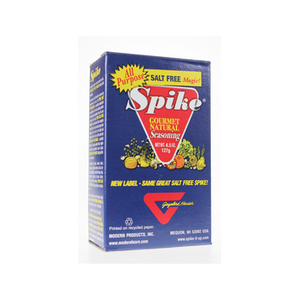 Regular price
Modern Spike Seasoning Salt Free
---
Spike salt free magic is a carefully selected balanced blend of the most exciting and flavourful natural ingredients from the four corners of the earth. Spike All Purpose seasoning is a sensational flavour magician that will turn your meals into gourmet delights. Adds great flavour, not calories.
Great on salads, sauces, stews, meats, eggs, pizza, vegetables, appetizers, popcorn and main courses.
Spike up your life today
Ingredients: Defatted soy, onion, orange crystals, nutritional yeast, garlic, celery, dill, horseradish, lemon peel, mustard, orange peel, parsley, white pepper, turmeric, green and red bell peppers, rosehips, summer savory, mushroom, safflower, coriander, fenugreek, basil, marjoram, oregano, thyme, tarragon, cumin, ginger, cayenne pepper, cloves, spinach, rosemary, cinnamon, paprika and tomato.

Contains: Soy